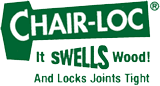 Chair-Loc
Tightens Loose Joints Permanently!
Chair-Loc is not a glue. It soaks into the wood grain and swells the wood fibers inside the joint to lock the dowel in place permanently.
Chair-Loc will not dry out and become brittle like most wood glues.
You can use Chair-Loc to tighten chair rungs and legs, doweled or dovetailed joints, brush, mop, hammer, axe, rake, and hoe handles.
Chair-Loc tightens loose joints by swelling the wood

Tightens loose tool handles

Won't dry out

Cleans up easily with soap and water